The more charts I find myself making, the more I find myself falling into habitual design choices, which in many cases is a good thing. It's tried and tested, but to continue growing I think we must make conscious efforts to improve our design. In this blog I'm going to discuss some of the ways I try and improve my own visual work in Tableau, which I hope will help you too.
Tableau Public
I couldn't recommend places to view different visualisation styles without mentioning Tableau Public. It's an unparalleled place to view Tableau dashboards that others have made and I know I have benefited from seeing work on this platform. You can interact with it, learn from it and share your work with others. We'll talk a bit more later about how to actually find content in this ocean, but for now let's talk about Viz of the day and featured visualisations.
Every day, Tableau shares work they feel exemplar a Viz of the day and there are also a number of featured viz. A regular stream of fresh content, usually with interesting and often unique style choices. It can be a great place to learn about all things Dashboard, but is a particularly good place to pickup design ideas and get inspired.
Makeover Monday
This weekly project brings together those across the spectrum of visualisation to explore different perspectives and approaches for more effective visualizations. I feel it's particularly good at pushing people out of their comfort zone to create better designs, and because of this, there can be some really interesting work to learn from. Take part, create a viz each week and try to learn from what other people make. Take inspiration from someones work? Credit them in yours.
I couldn't possibly mention all the people who's design has influenced my work, but here are two fantastic examples.
I was blown away by this marimekko chart by Natalia Miteva (@nataliatamiteva) when I saw in a makeover monday last year. I thought the choice of chart style was really interesting, the colour choices great and generally the text formatting worked really well. I wouldn't have seen this chart if it was for following along with the weekly challenge (even if I'm not very good at making many myself).
Secondly, David Borczuk (@datavizDB ) has been creating some brilliant dashboards that is always pay attention to. His design is incredible and I've drawn so much design inspiration from them. Once again, something that would not have happened without Tableau Public and Makeover Monday.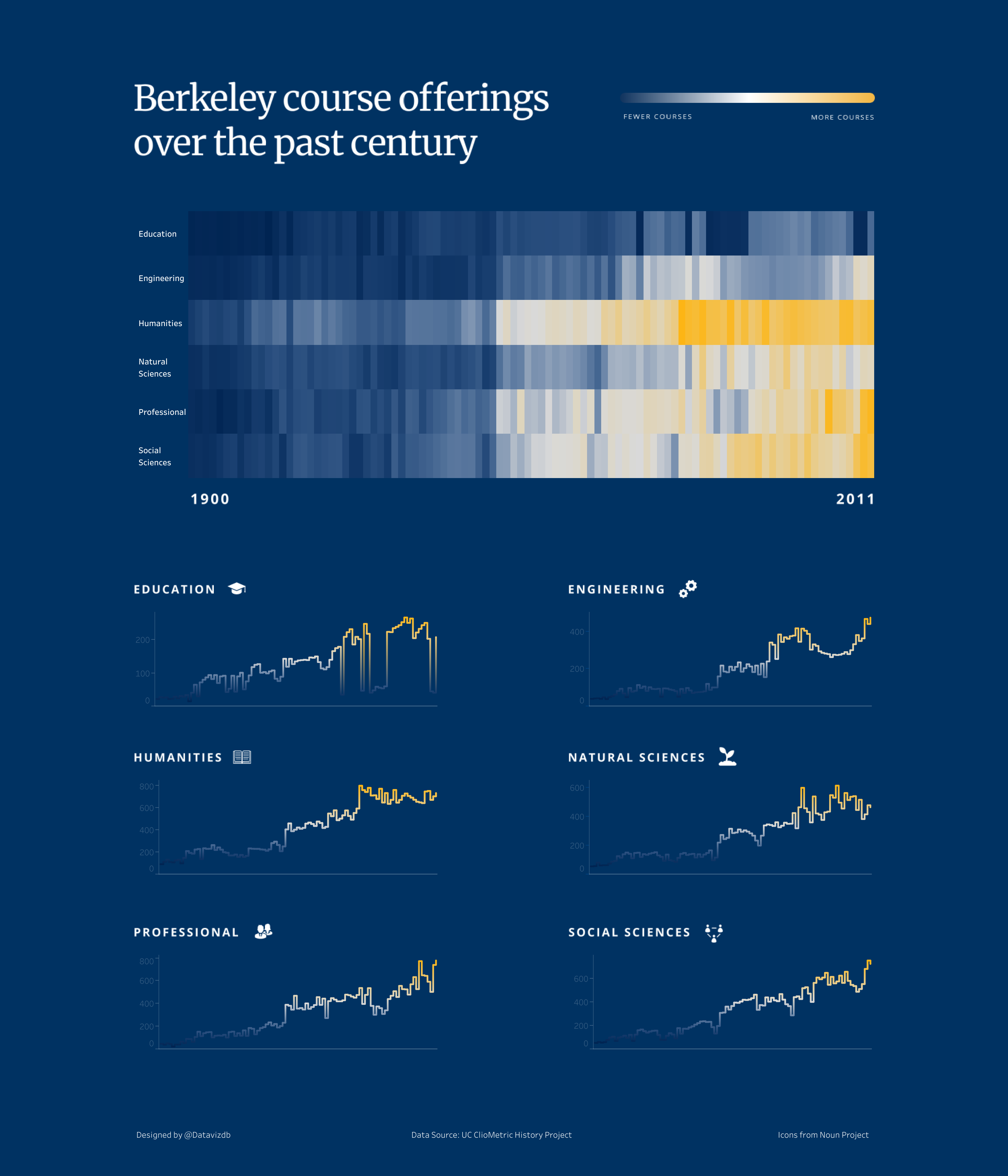 Books
I'm still feeling new to the world of data viz but I've read a couple books that have changed how I design. While these are not just about design, I think they can still help bump you out of your habits and think about your choices. I found it really useful to read Data Visualisation: A Handbook for Data Driven Design by Andy Kirk. Alongside that is the Makeover Monday book itself by Andy Kriebel and Eva Murray. Aside from being full of dashboards demonstrating the points, it provides an analysis of what works an what doesn't. It gets you thinking and that's a big part of mixing up your design.
The blog linked above has Tableau Publics top 100 vizes of all time by popularity ripe and ready to inspire you. Find a viz you like, try create something in that style and credit it. You'll be picking up new tricks and changing your habits before you know it.
New fonts
You may see a common theme across Tableau Public vizes that often they are not using a tableau font for the title. Perhaps they're also not using one for body text. Trying out new fonts can be a great way to mix up your design and give it a new feel. You may be surprised how much of a difference changing the font can actually make. I gave the font Georgia a good try when it was dashboard week here and I really enjoyed how different it made the design feel.
There's also this dashboard by James Fox on Tableau Public that shows you the fonts that work with Tableau public and what they look like. Take a look, pick a new one and give it a go!
New Colours
Colour is a huge aspect of design and it may be a great avenue to break your habits. Tableau does a fantastic job of choosing appropriate colours but try something new. Pick a main colour, a highlight colour and try make that work. Generate a random colour pallet with https://coolors.co/ or browse https://color.adobe.com/create. The books I mentioned earlier also give discussion on colour which you may find useful on influencing your decisions.
Have Fun
Experiment with your style and push it out there to the world. Put it on your tableau public profile and tweet it. See what people think and take inspiration from what other people are doing. If you're new to these communities, you'll likely be surprised how welcoming they are. A great way to experiment and have fun with your designs is taking part in Makeover Monday as mentioned earlier and it can serve as a great introduction in the data viz community.