Dashboard week is upon DS12. The basic idea is that the team is given a data source, they prep the data, create a visualization, and write a blog post. The blogging is going to be a struggle for some of them, but oh well, they'll have to get over it.
Here are the rules that are common across each day:
They must work independently.
Everything MUST be done by 5pm (so that I can write a recap blog post).
Must leave their laptops at work in the evening.
The next morning, present back the previous day's work.
No complaining!
Pay attention; requirements may change day-to-day.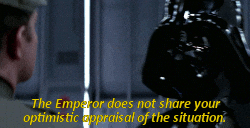 For day 1, the team will be using the Star Wars API. On the documentation page, there are six categories of resources: people, films, starships, vehicles, species, planets.
Since there are only six people around today, that works out perfectly. I'm a huge Star Wars fan, so I can't wait to see what they come up with.